Choosing the best doctor for a Biceps Tear in New York and Brooklyn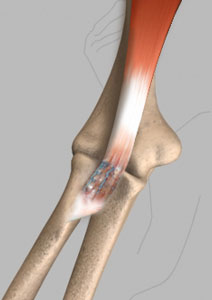 Choosing the best doctor for a Biceps Tear in New York and Brooklyn is an important decision. Dr. Cagle has extensive experience in treating Biceps Tears and realizes these frequently occur in athletes and active individuals. Dr. Cagle utilizes the most cutting edge minimally invasive techniques and technologies to repair the tendon. His goal is to rapidly restore function and promote healing.
WHAT IS A BICEPS TEAR?
A Biceps Tear is a term commonly used to describe an injury to the distal bicep's tendon at the elbow. This tendon helps bend the arm and turn the forearm.
HOW DO I KNOW IF I HAVE A BICEPS TEAR?
A Distal Biceps Tear can be a painful and sudden experience. Individuals frequently report they felt a pop in the elbow, and sometimes heard the sound. This is followed by pain and weakness in the arm, and a change in the shape of the biceps can often be appreciated.
HOW IS A BICEPS TEAR DIAGNOSED?
Biceps tear is diagnosed by a combination of injury history, symptoms, a physical examination and an MRI scan.
HOW IS A BICEPS TEAR TREATED?
To restore strength, function and the appearance of arm surgery is often necessary. Dr. Cagle has treated many patients for biceps tears. He chooses to use small cosmetic incisions and robust repair techniques. This translates into excellent healing and recovery. The time between injury and consultation appointment can impact the outcome of surgery, and if you suspect you have a distal biceps rupture, you should make an appointment within 1 week of injury.

HOW IS THE SURGERY PERFORMED?
Repair of a biceps tear is performed by carefully identifying the torn tendon edge and repairing the edge back to bone. Modern advanced surgical techniques assist in stronger repair constructs and healing. A biceps repair surgery is a same day procedure. This allows the person to go home after surgery to rest and recover.
HOW LONG DOES IT TAKE TO RECOVER?
Recovery occurs in stages after a Biceps Repair. Dr. Cagle personalizes the recovery program to each person's situation. A splint may be needed for 1-2 weeks, and then typically a sling is worn after the splint for a period of 4 weeks to protect the repair. After surgery each person progresses through a focused course of physical therapy to help them quickly regain their elbow function and strength.

DISTAL BICEPS REPAIR PROCEDURE POSTOPERATIVE PROTOCOL
EDUCATIONAL LINK
---
You will need the Adobe Reader to view and print these documents.

Related Topics: