Choosing the best doctor for a Shoulder Fracture in New York and Brooklyn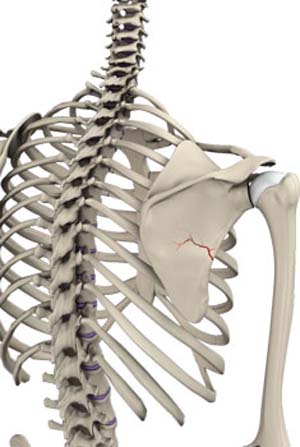 Choosing the best doctor for a Shoulder Fracture in New York and Brooklyn is an important decision. Shoulder Fractures (Proximal Humerus Fractures) can be a difficult problem. Dr. Cagle has extensive experience and expertise in treating these injuries, and he utilizes the most cutting edge minimally invasive techniques and technologies to repair these fractures.
WHAT IS A SHOULDER FRACTURE?
A fracture or break of the shoulder bone (proximal humerus) often occurs with an injury. This can represent a fracture of the ball and/or socket of the shoulder joint.
HOW DO I KNOW IF I HAVE A SHOULDER FRACTURE?
A Shoulder Fracture is typically associated with an injury or trauma. The fracture may cause pain along the shoulder and difficulty using the arm. If you suspect you have a shoulder fracture an urgent appointment is recommended within 1 week.
HOW IS A SHOULDER FRACTURE DIAGNOSED?
A Shoulder Fracture is diagnosed by a combination of injury history, symptoms, a physical examination and x-rays. Sometimes, a CT scan may be needed.
HOW IS A SHOULDER FRACTURE TREATED?
Not all Shoulder Fractures require surgery. In fact, shoulder specialists like Dr. Cagle can manage many types of Shoulder Fractures without any need for a surgical procedure. If the fracture is displaced or significantly injured, then surgery may be necessary.
HOW IS THE SURGERY PERFORMED?
Surgical treatment of a Shoulder Fracture requires either the repair of the bone or replacement of the shoulder joint. The decision between the two procedures greatly depends on the degree of injury and is directed towards restoring function and improving pain. Both a surgical repair (commonly called an open reduction and internal fixation) and a shoulder replacement are open procedures. Some individuals may go home the same day of surgery, but in other cases a 1 or 2 night stay in a hospital is needed.
HOW LONG DOES IT TAKE TO RECOVER?
After a Shoulder Fracture Repair or Shoulder Replacement recovery occurs in stages. Dr. Cagle personalizes the recovery program to each situation. A sling is typically worn after surgery for a period of 4-6 weeks. After surgery, each person progresses through a specialized course of physical therapy to help them quickly regain their shoulder function and strength.

PROXIMAL HUMERUS FRACTURE PROCEDURE POSTOPERATIVE PROTOCOL

REVERSE TOTAL SHOULDER ARTHROPLASTY POSTOPERATIVE PROTOCOL
EDUCATIONAL LINKS
---
You will need the Adobe Reader to view and print these documents.

Related Topics: