Choosing the best doctor for a shoulder dislocation in New York and Brooklyn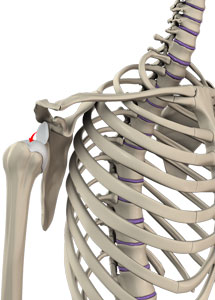 Choosing the best doctor for a shoulder dislocation in New York and Brooklyn is an important decision. Dr. Cagle is a top-rated shoulder surgeon specialist who has expertise and personal experience in treating shoulder dislocations. Dr. Cagle was once a patient with an unstable shoulder, and as such he truly understands the limitations this can place on someone's life and what it means to recover after surgery. He utilizes the most cutting-edge techniques and technologies to help stabilize the shoulder, and he conducts medical research involved in improving safety and recovery time. Dr. Cagle lived in Lyon, France to learn the Latarjet procedure for unstable shoulders.. Dr. Cagle's goal is to help a person regain shoulder stability allowing them to return to their lives, sports and careers.
WHAT IS A SHOULDER DISLOCATION?
A dislocation or instability of the shoulder occurs when the ball of the shoulder (humerus) dislocates from the socket (glenoid). Many times, the events are associated with an injury. Some individuals are able to reduce the shoulder back into joint, but most individuals require the shoulder be put back in place in an emergency room. In some cases, the shoulder continues to be unstable and continues to dislocate. This leads to repeated shoulder dislocations or repeated shoulder instability.
HOW IS SHOULDER INSTABILITY DIAGNOSED?
Shoulder instability is diagnosed by a combination of history of dislocation events, symptoms of shoulder instability, a physical examination, X-rays and often times an MRI scan.
HOW IS SHOULDER INSTABILITY TREATED?
Shoulder instability may be treated without surgery. Many people will be able to alleviate pain and return to desired activities with personalized therapy. When surgery is needed, shoulder instability is frequently treated in two ways, Shoulder Arthroscopy or Latarjet procedures. The choice of surgery strongly depends on the amount of damage that occurred during the dislocation. In some cases, the shoulder instability can be treated with minimally invasive surgery (Shoulder Arthroscopy). When there is additional damage to the shoulder, a Latarjet procedure may be recommended. The Latarjet is a procedure that Dr. Cagle traveled to Lyon, France to learn from the surgeon who developed the modern surgical technique. Both these surgeries can be used in conjunction with the regenerative medicine injection options of (PRP) platelet rich plasma or BMAC (stem cells).
HOW IS THE SURGERY PERFORMED?
Shoulder dislocations are frequently repaired using minimally invasive Shoulder Arthroscopy techniques. Shoulder Arthroscopy allows Dr. Cagle to directly examine and repair the torn and damaged capsule and labrum stabilizing the shoulder joint. Shoulder arthroscopy is performed though small incisions that often permit improved postoperative pain control and excellent recovery. This is a same day procedure, and that means each person can go home the same day of the surgery.
HOW IS A LATARJET PROCEDURE PERFORMED?
Shoulder dislocations that injure the bones of the shoulder joint may require a different technique to adequately stabilize the shoulder joint. This procedure is referred to as a Latarjet procedure and utilizes the coracoid bone to stabilize the shoulder joint. The Latarjet procedure is performed through a small incision and is a same day procedure. This allows each person to go home the same day of the surgery
HOW LONG DOES IT TAKE TO RECOVER?
Recovery after an arthroscopic shoulder repair or Latarjet occurs in stages, and Dr. Cagle personalizes the recovery program to each situation. A sling is typically worn after surgery for a period of 4-6 weeks to protect the repair. After surgery each person progresses through a customized course of physical therapy to help them quickly regain their shoulder function and strength.

SHOULDER INSTABILITY PROCEDURE POSTOPERATIVE PROTOCOL

LATARJET PROCEDURE POSTOPERATIVE PROTOCOL
EDUCATIONAL LINKS
---
You will need the Adobe Reader to view and print these documents.

Related Topics: