Shoulder Arthroscopy or Minimally invasive surgery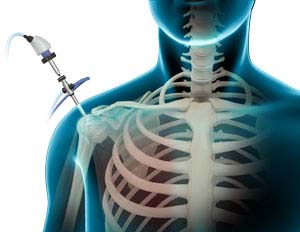 WHAT IS A SHOULDER ARTHROSCOPY?
Shoulder Arthroscopy is a minimally invasive surgery that represents a major advancement in the treatment of many injuries to the shoulder. During a Shoulder Arthroscopy Dr. Cagle uses small incisions, typically less than 1 cm. An arthroscope (camera) is inserted through the small incisions that allows Dr. Cagle to see inside the shoulder and treat the existing shoulder conditions.
HOW IS THE SURGERY PERFORMED?
Shoulder Arthroscopy is typically done as an outpatient procedure, which means that patients are able to go home the same day and rest. Same day procedures are assisted by advancements in pain management techniques that often help alleviate pain after surgery. Shoulder Arthroscopy also has the benefit of improved cosmetic appearance, as the incisions are smaller. Dr. Cagle takes care to repair each incision in a way that optimizes the cosmetic appearance once healed.
WHAT ARE THE COMMON PROCEDURES PERFORMED USING SHOULDER ARTHROSCOPY?
The following procedures are commonly performed using Shoulder Arthroscopy:
Rotator Cuff Repair
SLAP Repair
Biceps Tenodesis
Labral Repair
Shoulder Dislocation/Instability Repair
Subacromial Decompression
Distal Clavicle Resection
Superior Capsule Reconstruction
EDUCATIONAL LINKS
---
You will need the Adobe Reader to view and print these documents.

Related Topics: