Choosing the best doctor for a Labral/SLAP tear in New York and Brooklyn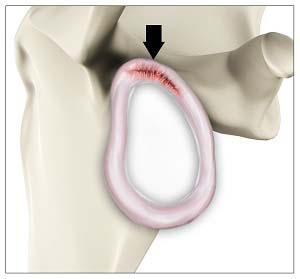 Choosing the best doctor for a Labral/SLAP Tear in New York and Brooklyn is an important decision. Dr. Cagle is a top-rated shoulder surgeon specialist who has expertise in treating labral tears (SLAP tears). Dr. Cagle utilizes the most cutting-edge techniques and technologies to repair the tear. His goal is to help each person regain their shoulder function and return to his or her life, sports and career.
WHAT IS A SHOULDER LABRAL TEAR (SLAP TEAR)?
Tears of the superior labrum are often referred to as SLAP tears. This represents an injury to the tissue at the top of the glenoid (shoulder socket) at the area where the long head of the bicep's tendon attaches.
HOW DO I KNOW IF I HAVE A LABRAL TEAR (SLAP TEAR)?
Labral tears frequently occur as the result of an injury or an athletic event. Many people feel acute pain that subsequently persists. This pain and injury to the superior labrum may also cause weakness in the shoulder, and in athletes, a labral tear can lead to the decreased ability to throw or participate in their chosen sport. In addition, labral tears often interfere with daily activities, work and sleep.
HOW IS SHOULDER LABRAL TEAR (SLAP TEAR) DIAGNOSED?
Labral tears are diagnosed by a combination of injury history, symptoms, a physical examination and often times an MRI scan.
HOW IS A SHOULDER LABRAL TEAR (SLAP TEAR) TREATED?
Labral tears are frequently treated without surgery. Many people will be able to alleviate pain and return to their desired activities with a personalized therapy plan. This may or may not include an anti-inflammatory injection. When surgery is needed, labrum tears can be treated with minimally invasive surgery, this is also known as Shoulder Arthroscopy.
HOW IS THE SURGERY PERFORMED?
Labral tears are now commonly repaired with minimally invasive Shoulder Arthroscopy, and surgical treatment occurs in one of two ways, either Shoulder Arthroscopy or Biceps Tenodesis. Shoulder arthroscopy is utilized to visualize the tears and repair the tissue with modern implants. If the tissue of the labrum is badly damaged, sometimes a Biceps Tenodesis is necessary. In a biceps tenodesis, the biceps tendon attaching to the top of the labral tear is released and repaired to the humeral head allowing for re-stabilization of the bicep's tendon. Both procedures are same day surgeries, and that means each person can go home the same day of their procedure.
HOW LONG DOES IT TAKE TO RECOVER?
After an arthroscopic shoulder labral repair or biceps tenodesis, recovery occurs in stages, and Dr. Cagle personalizes the recovery program to each situation. A sling is typically worn after surgery for a period of 4-6 weeks to protect the repair. After surgery, each person progresses through a specialized course of physical therapy to help them quickly regain their shoulder function and strength.

SLAP TEAR/LABRAL TEAR REPAIR POSTOPERATIVE PROTOCOL

ARTHROSCOPIC BICEPS TENODESIS POSTOPERATIVE PROTOCOL
EDUCATIONAL LINKS
---
You will need the Adobe Reader to view and print these documents.

Related Topics: